---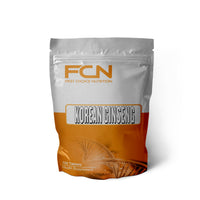 Product Description
Our Korean Ginseng Extract is made only from the root of the mature plant when the potency of Ginsenosides are highest. The ginseng is grown on an industrial scale for medicinal use
There are two forms of Ginseng, but only Korean Ginseng, also known as Panax, contains the highest level of Ginsenosides. Panax Ginseng is usually regarded as the original Ginseng, and the genus used in traditional Chinese medicine
Each tablet contains a concentrated extract from 4000mg of dried Ginseng Root standardised to guarantee 52mg of Ginsenosides
Ingredients: Korean Ginseng 500mg, standardised 4000mg extract (10:1), Microcrystalline Cellulose, Dextrin
Why Choose FCN?
Guaranteed quality ingredients sourced from only verified suppliers and manufacturers. We have been producing and selling health supplements for over a decade in Australia to 10,000s happy customers, so you can always be sure you are getting what you have paid for. 
Why Tablets and not capsules? 
Producing tablets around the world and in Australia, in particular, is an extremely difficult task, which is why 99% of sellers/companies only offer capsules. 
Keep in mind that producing tablets requires a professionally equipped manufacturing process, while capsules can be made by hand in someones home. 
So it is always important to verify how the product is being manufactured, where, and to what standards.   
If you are not sure, then ask. Ingesting a product that has been made in someone kitchen or living room is not safe.
TGA Disclaimer
First Choice Nutrition makes no therapeutic use claims. Therapeutic is defined by the Australian Therapeutic Goods Administration (TGA) as:
1. preventing, diagnosing, curing or alleviating a disease, ailment, defect or injury in persons or animals; or
2. influencing, inhibiting or modifying a physiological process in persons or animals; or
3. testing the susceptibility of persons or animals to a disease or ailment; or
4. influencing, controlling or preventing conception in persons; or
5. testing for pregnancy in persons; or
6. the replacement or modification of parts of the anatomy in persons or animals.
First Choice Nutrition does not accept any responsibility for losses, damages, costs, injuries and/or other consequences resulting directly or indirectly from the use of products, information or other material available from this seller.