---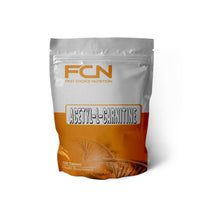 Product Description
Background
L-Carnitine is a non-essential amino acid that helps to maintain overall good health by facilitating the transfer of fatty acid groups into the mitochondrial membrane for cellular energy production.* It naturally occurs in red meat and other animal source foods, but we recommend supplementation to obtain optimal levels of this excellent amino acid
L-Carnitine is classified as an amino acid, although it is not an amino acid in the classic sense. Amino acids are generally used by the body for protein synthesis and/or as a neurotransmitter. Carnitine (actually more closely related to the B vitamins) is primarily used to facilitate the transport of long-chain fatty acids into the mitochondria of cells for energy production**
This process helps to support muscular energy by burning fat.** Natural Carnitine is found primarily in red meats, so vegetarians may need to supplement to ensure healthy levels in their bodies. Our Carnitine is a synthetic product manufactured in a laboratory using bacterial synthesis and is considered vegetarian due to the absence of any animal sources or by-products
** Source: Examine.com
Typical dosages range from 500mg - 2000mg each day
Prior to taking any supplement, it is recommended that you consult your physician and also do your own research
Ingredients: Acetyl-L-Carnitine, Microcrystalline Cellulose, Dextrin
TGA Disclaimer
FCN-SHOP makes no therapeutic use claims. Therapeutic is defined by the Australian Therapeutic Goods Administration (TGA) as:
1. preventing, diagnosing, curing or alleviating a disease, ailment, defect or injury in persons or animals; or
2. influencing, inhibiting or modifying a physiological process in persons or animals; or
3. testing the susceptibility of persons or animals to a disease or ailment; or
4. influencing, controlling or preventing conception in persons; or
5. testing for pregnancy in persons; or
6. the replacement or modification of parts of the anatomy in persons or animals.
FCN-SHOP does not accept any responsibility for losses, damages, costs, injuries and/or other consequences resulting directly or indirectly from the use of products, information or other material available from this seller.
Everything you need to know about ALCAR