---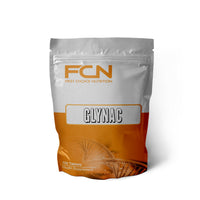 Understanding GlyNAC: A Revolutionary Supplement for Your Health
As the world of nutritional supplements continually evolves, a new player has emerged on the scene: GlyNAC. Comprised of the amino acids glycine and N-acetylcysteine (NAC), GlyNAC has been studied for its potential health benefits and its role in promoting overall well-being. Today, let's delve into the advantages of GlyNAC, its potential side effects, and what we know about its role in anti-aging.
The Power of GlyNAC: Unveiling the Benefits
GlyNAC's potential benefits are numerous, with major and minor advantages identified in research. It's crucial to note that these benefits are dose-dependent, with higher doses generally leading to more pronounced effects, although they do reach a plateau at a certain point.
Major Benefits
Reducing the Symptoms of Cysteine Deficiency: Cysteine deficiency can lead to decreased production of the peptide glutathione, which can result in edema, liver damage, muscle loss, lethargy, skin lesions, and weakness. GlyNAC can help alleviate these symptoms, although this deficiency is rare in healthy individuals consuming adequate protein.

Balancing Methionine and Glycine: GlyNAC helps maintain balance between methionine and glycine, essential for optimal health.

Improved Sleep Quality: GlyNAC supplements can enhance sleep quality, based on multiple studies.

Reduced Craving and Addiction: GlyNAC supplementation can reduce voluntary cigarette usage by about 25% after two weeks, with benefits also shown in cocaine and marijuana users​1​.
Minor Benefits
Improved Cognition: GlyNAC can potentially improve cognition, primarily due to improved sleep quality.

Reduced Acne: GlyNAC has shown effectiveness in reducing acne when taken for at least two months.

Heavy Metal Detoxification: GlyNAC can reduce lead bioaccumulation in red blood cells, potentially also applying to other heavy metals.

Improved Insulin Sensitivity: Low serum glycine levels are associated with insulin resistance, and GlyNAC may help improve this.
Other potential benefits include reducing symptoms of schizophrenia, angina, COPD, trichotillomania, flu, and Tylenol poisoning​1​.
Potential Side Effects of GlyNAC
Like any supplement, GlyNAC can have side effects, which increase with the dose. Some of these effects only apply to very high doses. Reported side effects include nausea, diarrhea, vomiting, headache, raised levels of homocysteine, amino acid imbalance, and in rare cases, toxicity from high amounts of NAC. To prevent chronic toxicity, it is advised to stay below 2 grams of NAC and 6 grams of glycine per day unless there is a specific need for higher intake​1​.
Why Choose FCN?
First, we are 100% Austalia-owned shop.
Guaranteed quality 
health
ingredients sourced from only verified suppliers and manufacturers who have carefully undergone strenuous reviews. We have been producing and selling health supplements and 
vitamin supplements
for over a decade in Australia to 10,000s of AU happy customers, so you can always be sure you are getting what you have paid for. You can also head over to our eBay store to read 1000s of glowing product reviews. You can also search our feedback specifically to view our NAC reviews.
Why Tablets and not capsules? 
Producing tablets around the world and in Australia, in particular, is an extremely difficult task, which is why 99% of sellers/companies only offer 
supplements
 or vitamins in
capsules. 
Keep in mind that producing tablets requires a professionally equipped manufacturing process, while capsules can be made by hand in someone's home. 
So it is always essential to verify how the product is being manufactured, where, and to what standards.   
If you are purchasing in 
Australia and are
not sure, then ask. Ingesting a product or 
vitamin
made in someone's kitchen or living room is not safe.


TGA Disclaimer
First Choice Nutrition (FCN SHOP) makes no therapeutic use claims or health claims on any of its supplements. Therapeutic is defined by the Australian Therapeutic Goods Administration (TGA) as:
1. preventing, diagnosing, curing or alleviating a disease, ailment, defect or injury in persons or animals; or
2. influencing, inhibiting or modifying a physiological process in persons or animals; or
3. testing the susceptibility of persons or animals to a disease or ailment; or
4. influencing, controlling or preventing conception in persons; or
5. testing for pregnancy in persons; or
6. the replacement or modification of parts of the anatomy in persons or animals.
First Choice Nutrition in Australia does not accept any responsibility for losses, damages, costs, injuries and/or other consequences resulting directly or indirectly from the use of products, information or other material available from this seller.
AU add to cart read view bulk mg cart minutes n-acetyl review n-acetyl australian
Glynac
I read studies on glynac prior to supplementing with it. If you are over 40 you should seriously consider it. I am taking 3 tablets per day and since starting it I am feeling more "alive", and my exercise routines are no longer a chore but something to look forward to. My aim with this product and others is to age better, not necessarily longer, and glynac is definitely on the top of the list and will be an ongoing supplement