---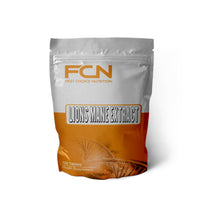 Product Description
Lion's mane mushrooms (Hericium erinaceus) are white, globe-shaped fungi that have long, shaggy spines. People can eat them or take them in the form of supplements. Research suggests* that they may offer a range of health benefits, including reduced inflammation and improved cognitive and heart health.
We searched long and hard to find a quality supplier for our new Lion's Mane extract. We are very happy to say we found and excellent supplier who is certified Organic be CERES. Each tablets contain a minimum of 30% Polysacaccharides, we do not use or source cheap raw powders and only strive to offer the highest quality extracts available. This means that no extra heating or extraction is necessary, the extract is fully absorb-able in its extracted state. 
We are now able to deliver high quality Lions Mane extract Australia wide, to all major cities: Melbourne, Sydney, Brisbane, Perth, and Adelaide. 
Each tablet contains 30% Polysaccharides from Organic Lion's Mane extract, containing 150mg of polysaccharides including Beta Glucans. 
Serving size: 1000mg (2 Tablets)
Frequency:  2-3 times per day
Ingredients: Organic Lion's Mane Extract (30% Polysaccharides), Microcrystalline Cellulose, Dextrin
Quality Extracts
We utilise only quality extracts in all of our products. Our Lion's Mane extract has undergone hot water extraction and is delivered at a ratio of 13:1
What does 13:1 actually mean?
This means that 1 gram of extracted Lion's Mane contains 13x more (polysaccharides - beta glucans) than Lion's Mane powder
Why is it important to choose an extract over a raw powder?
Most of the clinical studies showing beneficial results have been conducted with extracts and not powders
Due to the long-term hot water extraction, the substances are broken down from the cellular matrix and are therefore available
Choosing the right product
Look for a quality extract
Know the polysaccharide content
Ensure that a combination of fruiting bodies and mycelial biomass are used (depending on species)
TGA Disclaimer
One Stop Nutrition makes no therapeutic use claims. Therapeutic is defined by the Australian Therapeutic Goods Administration (TGA) as:
1. preventing, diagnosing, curing or alleviating a disease, ailment, defect or injury in persons or animals; or
2. influencing, inhibiting or modifying a physiological process in persons or animals; or
3. testing the susceptibility of persons or animals to a disease or ailment; or
4. influencing, controlling or preventing conception in persons; or
5. testing for pregnancy in persons; or
6. the replacement or modification of parts of the anatomy in persons or animals.
One Stop Nutrition does not accept any responsibility for losses, damages, costs, injuries and/or other consequences resulting directly or indirectly from use of products, information or other material available from this seller.
Great Service
The parcels arrived within a couple of days, fantastic!